Prepare this Japanese-inspired recipe in minutes. Mirin is commonly used to add a bright touch to grilled or boiled fish or to remove the fishy smell.
Cuisine : European Course : Main Skill Level : Novice
Prep : 25 mins Cook : 6 mins Ready in : 31 mins Serves : 4

---
INGREDIENTS:
3 tbsp Mirin (Japanese Cooking wine), or White Vinegar
1 tbsp Shallots (finely chopped)
1 tsp Black Peppercorns (crushed)
2 Egg Yolks
125g President Butter (melted)
2 tbsp Mint (finely chopped)
1 pinch of Corn or Rice Starch
Sea Salt (to taste)
4 slices of Salmon (200g each, bone-in)
Sea Salt and Pepper (to taste)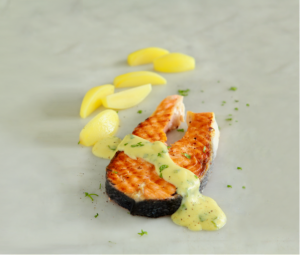 DIRECTIONS:
         To prepare sauce
In a saucepan, combine mirin, chopped shallots and peppercorns. Cook on medium heat until boiling. Strain mixture and return it to the pan.

Over low heat, add the yolks and whisk using a zigzag movement. Remove the pan from heat from time to time as you whisk continuously, to prevent yolks from coagulating.

When the mixture is a thick foam, gradually whisk in the butter. Add the mint and starch, and season to taste.

 

To cook salmon

Heat up the grill pan and cover with an oiled piece of baking paper, oiled side up. Place the fish on the paper and cook for about 4 minutes. You should have a nice grill print on your fish.

Turn the fish and cook for another 2 minutes. Season to taste.

To serve

Plate fish and serve with mint and mirin butter sauce, and steamed potatoes coated with salted butter.

**Tip: Bone-in salmon is better for grilling as you can cook it faster without drying the fish. It also makes for a nicer presentation.