Tuscan-style Pizza with Spiced Chicken, Pecorino and Mozarella
by Jehanne Ali

This pizza is easy enough for beginners to make at home. Use the Pizza Perfector oven to create restaurant style pizza crust with no soggy bottom! The most integral part of this pizza is the homemade tomato paste, and fresh ingredients for the topping. Feel free to omit the chicken for a vegetarian option.
Cuisine : European Course : Main Skill Level : Novice
Prep : 30 mins Cook : 10 mins Ready in : 40 mins Serves : 8

---
INGREDIENTS:
Pizza Dough
510g Bread Flour
320ml Warm Water
2 tsp Yeast
1 tbsp Sugar
1 tbsp Onion Powder
2 cloves of Garlic (minced finely)
2 tbsp Semolina
1½ tsp Salt
3 tbsp Extra Virgin Olive Oil
Tomato Base (to make 1 jar)
500g Heirloom Tomatoes
100g Cherry Vine Tomatoes
1 tbsp Extra Virgin Olive Oil
1 tsp Black Pepper
1 tbsp Oregano
2 cloves of Garlic (minced)
A handful of Basil (¼ packed cup)
1 tbsp Corn Starch
1 tsp Chilli Powder or Paprika (for added heat)
Salt (to season)
Topping
250g Chicken Fillet (cubed)
3-inch Block Pecorino Romano Cheese (grated)
150g Mozzarella Cheese (grated)
½ cup of Cherry Vine Tomatoes
1 tsp Italian Seasoning
1 tsp Paprika
A pinch of Salt
2 tbsp Extra Virgin Olive Oil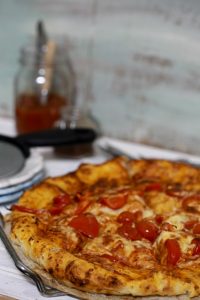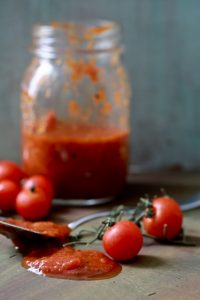 DIRECTIONS:
Prepare the pizza dough. Mix all the ingredients listed and knead using stand mixer or hand (pour water gradually as you may need more or less than listed amount to form tacky but elastic dough).
Let the dough rise to double in bulk in the oiled bowl, covered with cling film.
Punch down the air and divide dough into 2 balls.
With generous drizzle of olive oil, shape the dough into a circle of 25cm diameter.
Prepare the pizza sauce: Heat the olive oil and sauté the garlic until fragrant. Add in the chopped tomatoes, halved cherry tomatoes, oregano, black pepper, chilli powder and basil. Simmer until sauce is slightly thicken.
Add in the corn flour mix with a bit of water, and season with salt.
For the topping: marinate the chicken cubes with paprika, Italian seasoning, salt and paprika for 10 minutes. Grill the chicken cubes or pan fry until half cooked.
For assembly: Smear the pizza sauce on the dough. Arrange chicken pieces on top, cherry tomatoes, grated pecorino and mozzarella cheese, followed by drizzle of olive oil.
Bake the pizza in pizza perfector oven for 10 minutes or until golden.