Savour this flavour-packed pineapple rice as you enjoy the many benefits of tumeric. Other than being an anti-oxidant (which prevents cell damage and helps fight cancer), turmeric has been known contain anti-bacteria properties which help purify the blood and form new blood tissue.
Cuisine : Asian Course : Main Skill Level : Novice
Prep : 10 mins Cook : 25 mins Ready in : 35 mins Serves : 6

---
INGREDIENTS:
Rice
3 rice cups of Uncooked Rice (wash and soak for 10 minutes, season rice with 1 tablespoon chicken seasoning, 3 tablespoon garlic spread and 1 teaspoon McCormick Turmeric powder)
3¼ rice cups of Hot Chicken Stock
Sauté Ingredients
2 tbsp Shallot Oil
1 tbsp Butter
4 Shallots (chopped)
1 tsp McCormick Garlic Powder
1½ tsp McCormick Curry Powder
½ tsp McCormick Turmeric Powder
1 tsp Sugar
200g Diced Pineapples
100g Diced Crabstick
Garnishing
½ cup of Deep Fried Shallot Flakes
½ cup of Crispy Chicken Floss
Some Cilantro Leaves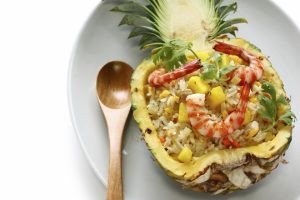 DIRECTIONS:
Wash rice thoroughly, allow rice to soak for about 10 minutes, then drain.
Add in rice seasoning ingredients, stir mix well, and then transfer rice into the rice cooker and add in hot clear chicken broth. Leave the rice to cook in the rice cooker until well done.
Heat wok with 2 tablespoon shallot oil and butter; add in chopped shallot stir frying until fragrant. Stir mix in curry powder, turmeric powder and garlic powder stir fry until aromatic.
Add in sugar and diced pineapple, pan grill until golden brown. Add in the crabstick stir mix briefly.
Mix in the cooked rice and do a few quick stirs. Stir fry for another minute. Serve hot and garnish with fried shallot flakes, chicken floss and cilantro leaves.
**Tip: Turmeric helps as an anti-oxidant which prevents cell damage and helps fight cancer. Turmeric helps with gas problems and diarrhea by calming down the digestive system. Turmeric has been known to be anti-bacterial which helps purify the blood and form new blood tissue.