Often served as a side, mushrooms are also great when served as an appetizing salad. Prepare an innovative salad dish that combines crunchy pork skin, fresh herbs and chilled mushrooms!
Cuisine : Fusion Course : Main Skill Level : Novice
Prep : 20 mins Cook : 30 mins Ready in : 50 mins Serves : 4

---
INGREDIENTS:
200g Pork Skin
2pcs of Old Ginger Slices
25g White Fungus (soaked and cut into 2cm pieces)
150g Black Fungus (cut into 2cm strips)
100g Fresh Honshimeiji Mushrooms (trimmed and blanched)
100g Japanese Cucumber (sliced)
50g Carrot (shredded)
1pc of Red Chilli (sliced)
2 stalks of Spring Onions (diced)
2 stalks of Chinese Celery (cut into 1cm lengths)
Toasted Sesame Seeds
Dressing
4 tbsp Japanese Soya Sauce
2 tbsp Lau Gan Ma Chilli Flakes Oil
1 clove of Garlic (chopped)
4 tbsp Sesame Oil
1 tbsp Sugar
4 tbsp Chinese Black Vinegar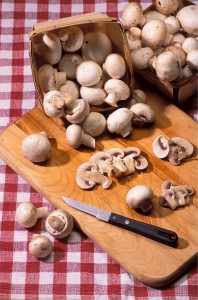 DIRECTIONS:
Wash pig skin and trim away all traces of fat. Fill pressure cooker with 1.5 liters of water. Add pork skin and ginger slices. Pressure cook at 2nd ring for 30 minutes. Chilled pork skin in ice water. Sliced pork skin and set aside for use.
In a large mixing bowl, combine rest of ingredients for salad, except sesame seeds.
Mixing the ingredients for dressing together and pour over salad ingredients. Add pork skin and toss evenly.Transfer salad to serving plate. Garnish with sesame seeds and serve.