These little starters are incredibly delish and easy to prepare. If you are a fan of prawns, go ahead and be generous with them!
Cuisine : American Course : Appetizer Skill Level : Novice
Prep : 20 mins Cook : 15 mins Ready in : 35 mins Serves : 8

---
INGREDIENTS:
1 cup of Canned Sweetcorn Kernel
1 Red Onion (diced)
1 cup of Plain Flour
1 tsp of Baking Powder
1 tsp of Salt
Crack of Black Pepper
20g Chopped Chives
3 Large Red Chilli (minced)
2/3 cup of Cream (or milk)
2 Eggs
2 tbsp of Breadcrumbs
450g of Fresh Crabmeat (squeezed dry of excess liquid)
300g of Prawns
Naturel Canola Oil (for deep frying)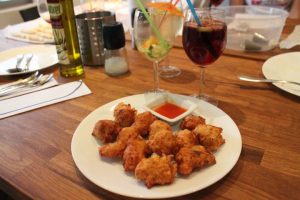 DIRECTIONS:
In a large bowl, mix the corn, red onion, prawn, crabmeat, chilli and chives.
Combine the flour, baking powder, salt, pepper and breadcrumbs well before adding the cream (or milk) and egg. Whisk to combine.
Mix in the crabmeat and vegetable mix to the batter and stir to completely combine.
Heat the oil over medium high heat and carefully dollop a tablespoonful of the batter into the hot oil. Repeat until you fill the pot.
With a long pair of wooden chopsticks, carefully turn the fritter a couple of times until well browned.
Drain briefly on kitchen towels before serving immediately with a wedge of lemon and tobasco.