Learn to Hakka's famous yong tau fu with Chef Julie's recipe!
Cuisine : Asian  Course : Main  Skill Level : Novice
Prep : 10 mins Cook : 15 mins Ready in : 25 mins  Serves : 1-2 Servings
---
INGREDIENTS             
For the Vegetable

1 Egg Plant/ Bringjal
6 Red/ Green Chilli/ Lady Fingers
1 Yellow/ Red/ Green Capsicum

For the Paste Filling

100g Minced Pork
100g Fish/ Squid Paste
½ tsp Salt
½ tsp Sugar
1 tsp Potato Starch
A dash of White Pepper
A dash of Sesame Oil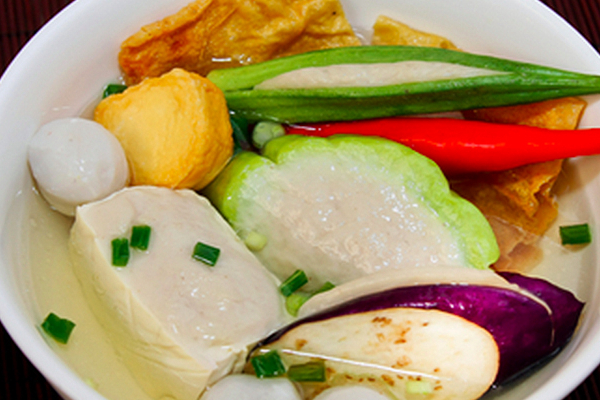 DIRECTIONS FOR VEGETABLE  
Butterfly the egg-plant.
De-seed the chilli / lady's fingers length-wise.
Cut capsicum into 8pcs.
Coat the inside of the vegetables with potato starch.
DIRECTIONS FOR PASTE FILLING         
Mix in the seasonings and add in the minced meat fish pastes.
Stir until mixture is sticky.
Stuff the vegetable with the filling.
Heat pan with some oil and pan fry wish filling facing down for 2 minutes.
Add in 1tbsp water and cover the pan.
Simmer for few minutes.