Celebrate your family or friend's birthday with this delicious Japanese Banana Shortcake frosted with fluffy whipping cream! This recipe includes teaching you how to bake a moist sponge cake, whipping cream frosting and techniques to assemble the cake!
Cuisine: Baking Course : Dessert  Skill Level : Novice
Prep :  50 mins Cook : 40 mins Ready in : 1 hr 30 mins  Serves : 7 or 8 inch layered cake
---
INGREDIENTS                                          
Sponge

Group A – Sift together

130g Cake Flour
2 tsp Baking Powder

Group B – Egg Yolk mixture

6 large Egg Yolks
120g Sugar
1 tsp Vanilla essence
10g Cake emulsifier

Group C – Egg White mixture

6 large Egg Whites
4 tbsp Sugar
½ tsp Cream of Tartat

Group D – Butter mixture

90g Salted butter (melted)
2 tbsp Water
2 tbsp Oil

Stabilized Whipping Cream Frosting

1 tsp Gelatine dissolved in 1 tbsp warm water
1 cup Cold Heavy Whipping Cream
¼ cup Confectioners

Simple Syrup

¼ cup Granulated Sugar
¼ cup Water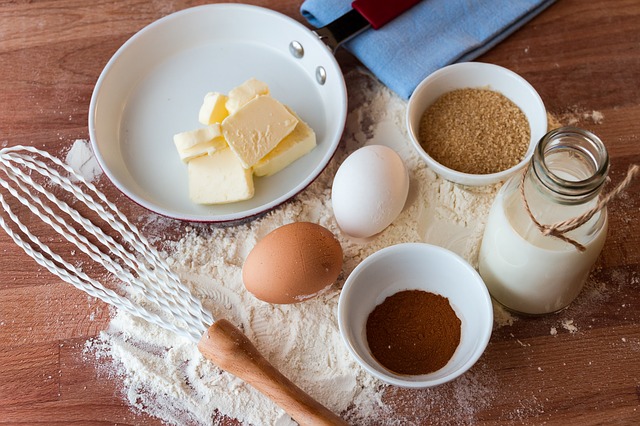 DIRECTIONS TO MAKE THE CAKE
Sift cake flour and baking powder into a bowl, and then set aside.
Separate egg whites from egg yolks.
INGREDIENTS B                                         
Beat egg yolks, emulsifier and sugar together till is egg mixture is thick and pale yellow in colour, add durian essence and continue beating for 2 more minutes.
Lastly add in the sponge cake emulsifier and mix well. Set aside.
INGREDIENTS D
Combine all ingredients in D. Mix well.
Pour butter mixture to the egg yolk mixture and fold in using a hand whisk.
Add flour mixture to the egg yolk mixture and slowly fold in.
In a separate bowl, beat egg whites and cream of tartar until frothy.
Add sugar to egg white mixture and continue whipping until stiff peaks form.
Gently fold in a quarter of egg whites into the egg yolk mixture, and then repeat for the rest of the egg whites.
Pour batter into 11 inch pan that is lined with greaseproof paper, and then bake for 30 minutes for 170°C until toothpick come out dry.
Remove the cake pan from oven and leave to cool on a cooling rack.
DIRECTIONS TO MAKE STABILIZED WHIPPING CREAM FROSTING
Put the cold water in a small saucepan. Sprinkle the gelatin over the surface of the water and let stand for 5 minutes (do not stir).  Place the saucepan over low heat and stir constantly with a wooden spoon just until the gelatin dissolves.  Remove the saucepan from the heat and cool to room temperature.
In a mixing bowl, combine the whipping cream, sugar, and vanilla and beat until slightly thickened. Then, while beating slowly, gradually pour the gelatin into the whipped cream mixture.  Then whip the mixture at high speed until stiff.
DIRECTIONS TO MAKE SIMPLE SYRUP
In a medium saucepan combine the sugar and water. Bring the water to a boil, stirring, until sugar has dissolved.  Remove from the heat and allow to cool.
DIRECTIONS TO ASSEMBLE THE CAKE
Reserve some banana for decorating the cake. Slice the remaining banana into thin slices (about 4 slices per banana).
Slice the sponge cake horizontally into 2 layers.
Place one sponge layer cut-side up on a cake board or serving plate and lightly crush the surface with the simple syrup. Spread a thin layer of whipped cream over the cake layer and arrange the banana slices over the surface.  Spread an additional layer of whipped cream over the banana.  Brush the cut-side of the second layer with the simple syrup and place it over the first layer.  Frost the sides and top of the cake with the remaining whipped cream.  Decorate as desired and garnish with fruits.