A dinner party centrepiece, this berry-licious Blueberry Crumble Cheesecake is buttery, crumbly and extremely enjoyable!
Cuisine: Baking Course: Dessert Skill Level : Novice
Prep : 20 mins Cook : 60 mins Ready in : 1 hr 20 mins  Serves : 1-2 Servings
---
INGREDIENTS                                          
Blueberry Streusel Cheesecake

Group 1

300g Cream Cheese
110g Castor Sugar
1 tsp Lemon Juice
20g Plain Flour
1 tsp Vanilla Paste
3 Egg Yolks

Group 2- Fold in

50g Fresh Whipped Cream (35%)
2 Egg Whites
40g Castor Sugar
2/3 cup Blueberry Pie Filling

Streusel Crumble

100g Butter
100g Fine Sugar
100g Plain Flour
100g Almond Powder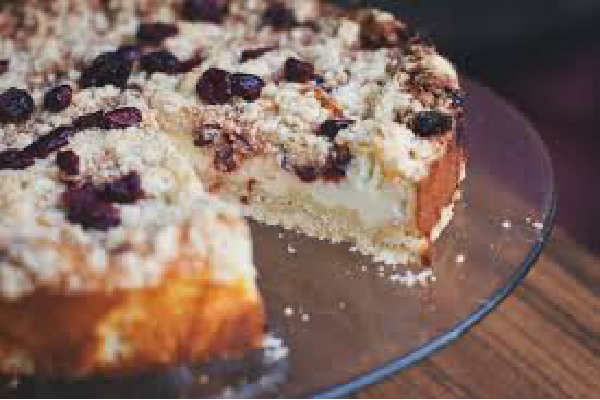 DIRECTIONS FOR BLUEBERRY STREUSEL CHEESECAKE
Beat cream cheese and lemon juice at slow speed for 5mins.
Add in sugar slowly until all completed.
Add in flour & mix well.
Pour in the yolk slowly.
Beat egg white till soft peak.
Fold in the whipped cream & egg white into cream mixture.
Bake in Baine-Maria (hot-water bath)150C for about 1hr. Leave cake in oven (open oven door)
DIRECTIONS FOR STREUSEL CRUMBLE                                           
Mix all ingredients using rubbing in method. Chill till use.