Prepare a Traditional Yam Paste with Gingko Nuts and Pumpkin for your family for a great Sunday evening dessert!
Cuisine : Asian Course : Dessert Skill Level : Novice
Prep : 30 mins Cook : 40 mins Ready in : 70 mins Serves : 4-6

---
INGREDIENTS:
300g Pork Fat, cut into cubes
6-8 nos Whole Unpeeled Shallots
200g Pumpkin, cut into cubes
4 tbsp Sugar
Cornstarch for thickening

Assembly

400g Thai Yam, peeled & diced
2pcs Pandan Leaves
4 tbsp Sugar
80ml Rendered Pork Lard
50g Canned Gingko Nuts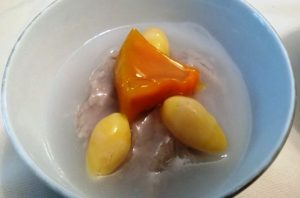 DIRECTIONS:
In a non-stick deep fry pan, sauté pork fat cubes with shallots. Lower the heat when fat starts to render out and cook until the pork cracklings are golden brown. Drain, discard the shallots and retain the lard and cracklings.
Mix pumpkin with the 8 tbsp of sugar and cure overnight. Steam for 20-30 minutes withe xtracted water until soft and reserve the syrup.
Place pandan leaves between the cut yam pieces and steam for 20-30 minutes until yam is soft. Discard pandan leaves and mash the yam up.
In a non-stick pan, heat lard, add the yam paste and sugar in. Stir it continuously for 30 minutes. Check taste for sweetness, adjusting with more sugar if necessary.
Divide the yam paste into individual serving bowls and spoon the gingko nuts and pumpkin over.
Dilute the pumpkin extracted syrup with water on sweetness to taste. Bring to boil and thicken the syrup with some cornstarch. Pour over some of the thickened syrup on the yam paste. Serve hot.