Try Chef Eric's Teochew version of carrot cake, a well-loved dish among locals! 
Cuisine : Asian Course : Appetizer Skill Level : Novice
Prep : 10 mins Cook : 50 mins Ready in : 60 mins Serves : 4-6

---
INGREDIENTS:
175g Rice Flour
25g Corn Flour
300ml Water
2 tbsp Oil
30g Dried Shrimp (Hay Bee)
15g Dried Mushrooms, soaked and diced
45g Dried Chinese Sausage (Lap Cheong)
3 tbsp Extra Oil
50g Chinese Leeks, finely sliced
500g White Radish, grated
375ml Water
1 tsp Salt
½ MSG
1 tbsp Sugar
½ tsp Pepper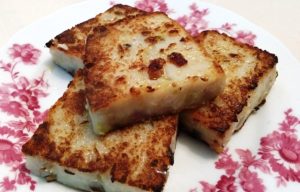 DIRECTIONS:
Combine rice flour and corn starch with 600ml water, sieve through.
Heat oil and sauté dried shrimps, mushrooms and Chinese sausage till fragrant. Set mixture aside.
Heat extra oil, sauté leeks till fragrant, add the radish and cook for 5 minutes.
Pour in water, add the salt, MSG, sugar and pepper powder. Add the sautéed ingredients from step 2 and mix in the strained starch solution, stirring constantly till thickened.
Transfer the thickened mixture to an oil lined steaming tray. Steam mixture for 40 minutes till carrot cake is set. Allow to cool and chill carrot cake overnight to set before slicing up to serve. Serve carrot cake steamed hot on pan fried lightly with oil.