Tau Suan, a simple sweet Chinese dessert made from yellow split mung beans that is served with dough fritters.
Cuisine : Asian Course : Dessert Skill Level : Novice
Prep : 15 mins Cook : 25 mins Ready in : 40 mins Serves : 4 Servings
---
INGREDIENTS:
80g Yellow Split Mung Beans, soaked overnight
2 stalks Pandan Leaves
5 L Water
60g Brown Sugar
30g Dried Mandarin Orange, coarsely grounded
20g Sweet Potato Starch
120ml Water
1 pieces Dough Fritters (youriao)
40g Ready to eat Gingko Nuts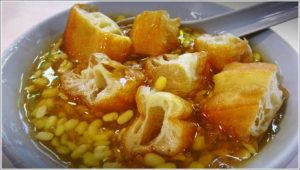 DIRECTIONS:
Steam pre-soaked mung beans for 30minutes. Allow to cool. Check that mung beans are thoroughly cooked by tasting a few grains.
Bring 1.5liters water to boil with pandan leaves. Add orange sugar to taste and coarsely grounded dried mandarin orange. Thicken the syrup with sweet potato starch dissolved in water.
Return the beans to the thickened syrup and serve hot with dough fritters on the side.