Seafood Fricassee is a classic French white stew that is flavourful and creamy. It's a seafood-lover delight!
Cuisine : European Course : Main Skill Level : Novice
Prep : 10 mins Cook : 30 mins Ready in : 40 mins Serves : 2-4 Servings
---
INGREDIENTS:
40g Butter
50g Onions, diced
1 tsp Chopped Garlic
60g Red Bell Pepper., cut into 1 cm cubes
60g Zucchini., cut into 1.5cm cubes
40g Scallops
40g Mussels
60g White Fish Fillet
100ml White Wine
100ml Whipping Cream
100g Fresh Button Mushrooms, cut into cubes
40g Crabmeat
1 ½ tsp Concentrated Chicken Stock
5g Chopped Parsley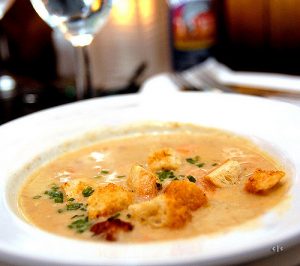 DIRECTIONS:
Melt butter in saute pan. Add chopped garlic and sliced onions, cook briefly. Add the bell peppers and zucchini, saute briefly.
Add in the seafood except crabmeat. Deglaze with white wine and pour in the cream.
Bring sauce to boil and simmer briefly. Add in mushrooms and crabmeat. Season seafood mixture with concentrated chicken stock and add the chopped parsley. Serve hot with pilaf rice or roesti potatoes.