Enjoy sweet potato in a traditional with Chef Julie's Goguma Mattang, or Caramelized Sweet Potato. It is a dish made from deep-fried sweet potatoes covered in caramel sauce that tastes best hot!
Cuisine : Asian Course : Dessert Skill Level : Novice
Prep : 15 mins Cook : 25 mins Ready in : 40 mins Serves : 4 Servings
---
INGREDIENTS:
1/2 kg Sweet Potato
7 tbsp Sugar
A pinch of Salt
1 tbsp Oil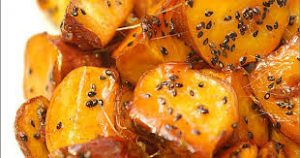 DIRECTIONS:
Wash and peel potato. Cut into 1cm strips or chunks.
Soak in water for 30 minutes to reduce the starch.
Drain and wipe off the water worth kitchen towels.
Coat with corn flour lightly.
Deep fry the sweet potato in a pot for 5 minutes or till light brown.
Use the kitchen towels to absorb the excess oil.
Meanwhile use the oil to melt the sugar at low heat.
Once melted, stir in the sweet potato to coat with the caramel for 1 minute. Off Fire.
Serve with toasted sesame seeds.