For this Chinese New Year, learn to make Traditional Sliced Bak Kwa from scratch for your family and friends!
Cuisine : Asian Course : Appetizer Skill Level : Novice
Prep : 150 mins Cook : 5 mins Ready in : 155 mins Serves : 400g

---
INGREDIENTS:
600 g Shoulder Butt / Twee Bah (deveined)
150 g Fine Sugar
2 tbsp Thai Fish Sauce
1/2 tbsp Sesame Oil
1 1/2 tbsp Light Soya Sauce
A pinch of Pepper
1/2 tbsp Rose Wine
3 tbsp Margarine/ Lard
1/2 tsp MSG (Optional)
1/2 tbsp Papaya Oil (Optional)
284 Char Siew Red Coloring
Use Nitrite Powder to retain the meat color.
Keep it for less than 3 months.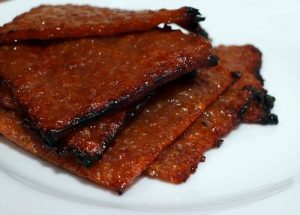 DIRECTIONS:
Mix all the seasonings in a big bowl.
Place all the minced meat inside & mix well. Leave it for ½ hr.
Press thinly on tray / bamboo sieve greased with oil.
Place in oven at 50 C for 2hr or under the sun 1day till dry.
Store in freezer lined with paper. Bak Kwa can be kept for 3mths.
Grill at 250C till golden brown (5 minutes).