Bake these beautiful spiced muffins for Christmas breakfast to share it with your family!
Cuisine : Baking Course : Dessert Skill Level : Novice
Prep : 15 mins Cook : 15 mins Ready in : 30 mins Serves : 6-8

---
INGREDIENTS:
Group A
85g Unsalted butter
A pinch of Salt
Group B
125g Flour
1/2 tsp Mixed spice powder
105g Castor sugar
Group C
1 Egg
Group D
75g Full cream milk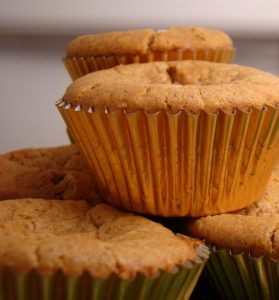 DIRECTIONS:
Combine Group A (Unsalted Butter and Salt) and B (Flour, Mixed Spice Powder, Castor Sugar) together until it is well mixed.
Add in Group C (Egg) and mix well.
Combine Group D (Full Cream Milk) to the mixture and mix well.
Fill the muffin tray to ¾ full and bake for 180 degree Celsius for 15 mins.