Indulge yourself with this light and fluffy mousse that will surely tantalize your sweet tooth! This eye-catching dessert will complement any garden or child-friendly party while not forgetting its sweet and crunchy texture as a bonus.
Cuisine : Baking Course : Dessert Skill Level : Novice
Prep : 40 mins Cook : 38 mins Ready in : 18 mins Serves : 4

---
INGREDIENTS:
Chocolate Biscuit without Flour

gr 375 Butter
gr 185 Sugar
gr 25 Cocoa powder
gr 210 Yolks
gr 150 Whole eggs
gr 400 Dark chocolate 65%
gr 675 Albumen
gr 2250 Sugar

Pistachio Mousse

gr 300 Sugar syrup
gr 250 Yolk
gr 1000 Whipped cream
gr 200 Pistachio paste
gr 20 Gelatine

Pistachio Biscuit

gr 250 Almond flour
gr 400 Pistachio paste
gr 250 Icing sugar
gr 400 Yolk
gr 200 Whole eggs
gr 600 Albumen
gr 450 Sugar
gr 320 Flour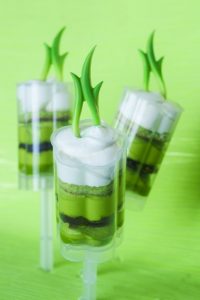 DIRECTIONS:
          Chocolate Biscuit without flour
Mix the butter, sugar and cocoa together. Mix and whip up with a planetary mixer the eggs.

Pour the mixture into the melted chocolate at 35° C.

Whip the white eggs with sugar and then combine the two mixtures. Spread the compound at 6 mm thickness onto oven paper and cook at 165° C for 30 minutes. Check the baking frequently because the biscuit have to remain soft.

Pistachio Mousse

Whip up the yolk with hot syrup at 121° C. Let the compound cool down and add the gelatine, already softened in water, pressed and melted.

Mix well, then add the pistachio paste and the cream not completely whipped in 2 times. Mix well and pour into the moulds.

Pistachio Biscuit

Whip 400 grams of yolks and 200 grams of whole eggs and add the compound gradually to the flour, the pistachio paste and icing sugar.

Add the 600 gr of white eggs mounted with 450 gr of sugar and 320 gr of flour later.

Spread the biscuit to about 3 mm of thickness and bake at 230 ° C for about 8 minutes.