Mee Siam, dish of thin rice noodles in a spicy, sweet and slightly sour gravy, is a popular dish among many locals. After cooking, it is served with various condiments such as taupok, fresh prawns and hard boiled eggs. Try making this at home today and you might be surprised at how easy it is!
Cuisine : Asian Course : Main Skill Level : Novice
Prep : 40 mins Cook : 30 mins Ready in : 70 mins Serves : 2

---
INGREDIENTS:
½ pkt Bee Hoon (rice vermicelli) ~160g, soak in water for half an hour
3tbsps Oil
1tbsps Chili Paste (Chili Boh)
1tsps Belachan
60g Bean sprouts (Taugeh)
150ml Water

For the Mee Siam Gravy 

8 tbsp Oil
2 tbsp Whole fermented Soya Bean (Tau Cheo), slightly chopped
100g Dried anchovies (Ikan bilis)
1 no. Red onion, sliced
1 stalk Lemongrass, bruised
60g Spice paste (Rempah)
40g Chili paste (Chili boh)

For the Condiments

2 nos Eggs, hard boiled, cut into wedges
8 nos Fresh prawns, peeled and blanched
2 stalks Chinese Chives (Ku chai), diced
2 pcs Tau pok, cut into dices
Fried shallots
Calamansi limes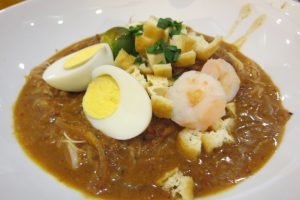 DIRECTIONS:
Drain the vermicelli from soaking in water. Heat oil; fry the chili paste, dried shrimp and belachan powder/granules together.
Add bean sprouts and vermicelli; pour in one third of the water. Cover wok and reduce to low fire and toss the vermicelli every 2-3 minutes, adding the rest of the water as required gradually.
Cook vermicelli until it is soft on taste. Add more water than required if necessary to achieve the right noodle texture due to the variable of fire control.
Transfer vermicelli to a serving tray and keep warm.


For the Mee Siam Gravy

Heat oil, add fermented soya bean paste and cook for a minute. Add ikan bilis, sliced onions and lemon grass. Cook for two minutes

Add in chili and tamarind pastes; pour in water and coconut milk. Bring gravy to the boil and simmer for 20-30mins.

Strain gravy and discard the solids. Add peanuts if using, simmer for another half an hour, adjust taste of gravy with sugar and some extra salt if required. If gravy is too concentrated, dilute with some water as required.

For the Condiments

Divide noodles into four serving bowls. Pour hot gravy over and garnish with the above condiments.