Traditional Italian Risotto with Saffron and Parmesan Cheese (Risotto alla Milanese)
by Daniele Sarno

If you are looking for a simple dish, that both tastes and look beautiful, this recipe for Traditional Italian Risotto with Saffron and Parmesan Cheese will not disappoint!
Cuisine : European Course : Main Skill Level : Novice
Prep : 10 mins Cook : 35 mins Ready in : 45 mins Serves : 12

---
INGREDIENTS:
150 ml Extra-virgin olive oil
1 Diced medium onion
5 gr Saffron threads
3 1/2 Cups chicken stock, hot
1 kg Vialone Nano rice
200 ml White wine
250 g Unsalted butter
250 g Grated Parmigiano-Reggiano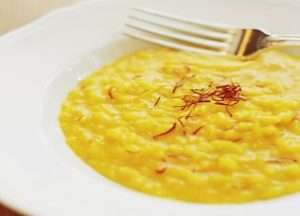 DIRECTIONS:
In a 12 to 14-inch skillet, heat the olive oil over medium heat. Add the onion and cook until softened and translucent but not browned, 8 to 10 minutes.
Meanwhile add the saffron to the stock, stirring to infuse.
Once the onions are translucent add the rice and stir with a wooden spoon until toasted and opaque, 3 to 4 minutes.
Add the wine to the toasting rice, and then add a 4 to 6-ounce ladle of the saffron-infused stock and cook, stirring, until it is absorbed.
Continue adding the stock a ladle at a time, waiting until the liquid is absorbed before adding more
Cook until the rice is tender and creamy and yet still a little al dente, about 15 minutes.
Stir in the butter and cheese until well mixed.
 Portion risotto into 12 warmed serving plates, serving with extra cheese.