Panna Cotta is an Italian classic which is simple to make at home with this recipe shared by Chef Jehanne Ali! It tastes amazing when served with fruit compote!
Cuisine : Baking Course : Dessert Skill Level : Novice
Prep : 20 mins Cook : 25 mins Ready in : 45 mins Serves : 6

---
INGREDIENTS:
100ml Heavy cream
100ml Greek yogurt, cold
½ no. Vanilla pod
2 tbsp Caster sugar (or honey)
1 tbsp Gelatin powder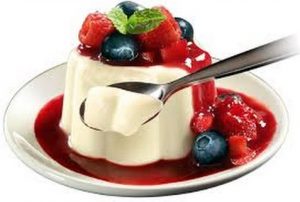 DIRECTIONS:
Simmer the cream with sugar and vanilla beans until it reaches boiling point.
In a separate bowl, sprinkle the gelatin in a bowl of 3 tbsp cold water.
Using double boiling or microwave, melt the gelatin and pour into the hot cream.
Add the yogurt, and mix well.
Divide into jars and chill until set.
Serve with fruit compote on top.