Fluffy cottony cupcakes are at your disposal with this easy recipe, which is low in calorie yet tastes so good and versatile. Using a Kitchenaid mixer, whip the egg whites until meringue-like in no time at all, it is after all the one investment that most home bakers fall in love with. Silicone cupcake liners are not only trendy but you are also doing your part for the environment – they are re-usable and each pack comes in gorgeous multiple colours!
Cuisine : Baking Course : Dessert Skill Level : Novice
Prep : 20 mins Cook : 20 mins Ready in : 40 mins Serves : 12-15 large cupcakes

---
INGREDIENTS:
3 large eggs, separated
60g castor sugar
50ml canola oil
50ml milk
1 tsp vanilla extract
½ orange (juice and rinds)
80g cake flour
A pinch of salt
¼ tsp cream of tartar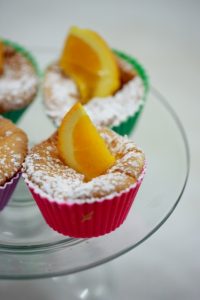 DIRECTIONS:
Using the stand mixer, whip the egg whites with cream of tartar until soft peaks are formed.
Add half of the sugar and continue beating until stiff peaks meringue are formed.
In a separate bowl, hand whisk the egg yolks with salt, remaining sugar, vanilla and orange rinds until almost pale.
Add 2 tbsp orange juice and milk.
Once combined, add the cake flour and combine well.
Fold in the egg white meringue into the batter and spoon into silicone cupcake liners.
Bake the cakes for 18-20 minutes at preheated oven of 170°C.
Sprinkle with icing sugar on serving and orange wedges.