Bake your own Traditional Baked Mooncake this Mid-Autumn Festival with Chef Charlynn's recipe!
Cuisine : Asian Course : Dessert Skill Level : Novice
Prep : 60 mins Cook : 10 mins Ready in : 70 mins Serves : 12 pieces of Mooncakes

---
INGREDIENTS:
Pastry

100g Plain Flour
60g Golden Syrup
½ tsp Alkaline Water
28g Vegetable Oil

Fillings
Egg Wash

1 Egg, lightly whisk & sieve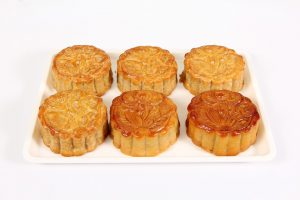 DIRECTIONS:
Use a large bowl; mix the golden syrup, alkaline water and oil well. Sift in the flour. Knead into dough. Cover with film wrap and rest for 40 minutes.
Roll lotus paste into a long tube. Cut into 12 equal portions, each 35g.
Preheat oven to 180C.
Divide the dough into 12 equal portions (15g each). Wrap and seal the lotus paste ball with the dough disc.
Dust the mooncake mould and place the stuffed mooncake into the mould.
Bake in the preheated oven for about 10 minutes.
Brush the mooncakes with egg wash & continue to bake until the pastry turns golden brown.