Marinated with simple flavours, this Char Siew Pork is easy-to-make and deliciously sticky and sweet! It tastes perfect on its own or paired with noodle or rice.
Cuisine : Asian Course : Appetizer Skill Level : Novice
Prep : 510 mins Cook : 30 mins Ready in : 540 mins Serves : 2 Servings

---
INGREDIENTS:
½ kg Pork Belly (without skin), marinated overnight
3 tbsp Sugar
½ tbsp. Light Soya
2 tbsp Water
A little Dark Soya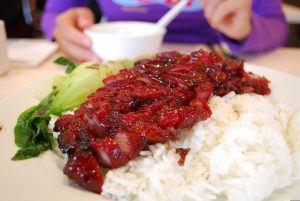 DIRECTIONS:
Pour whole bowl of marinate with pork in fry pan until marinate thickens, then transfer to baking tray to grill until caramelised (15-30 minutes).
Allow to rest for 20 minutes before cutting and serving.