This delicious spanish omelette is a household dish which is easy to do. The thinly sliced potatoes are blanched and mixed with caramelized onions, eggs and salt. Cook until tortilla is golden brown.
Cuisine : European Course : Appetizer Skill Level : Novice
Prep : 10 mins Cook : 15 mins Ready in : 25 mins Serves : 4

---
INGREDIENTS:
3 Large Dutch/Idaho Potatoes (sliced 5mm, blanched)
1 Large Onion (thinly sliced)
6 tbsp Olive Oil or Garlic Oil
6 Eggs (beaten)
1 tsp Salt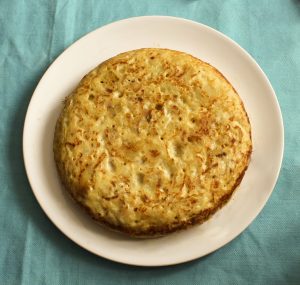 DIRECTIONS:
Heat 2 tbsp of oil in non stick pan, sauté the onions till soft and slightly caramelized.
Mix onions, eggs and potatoes together. Season the egg mixture with salt.
Heat remaining oil in non-stick pan. Spread the mixture all around the pan. Using a slow fire, allow the tortilla to set for 2-3 minutes before turning over.
Using a plate larger than the pan, flip the tortilla over and add some oil to the pan and slide it back in. Cook for another 3-4 minutes until the tortilla is firm.
Allow the tortilla to cool before slicing. Serve with aioli and bread.