The main component for this aioli is the roasted garlic purée. Garlic is first tossed with oil, salt and pepper then roasted in the oven. It is then purée into paste with olive oil. Aioli is formed when the purée mixed with mayonnaise.
Cuisine : European Course : Appetizer Skill Level : Novice
Prep : 5 mins Cook : 35 mins Ready in : 40 mins Serves : 6

---
INGREDIENTS:
Roasted Garlic Puree
6 Whole Garlic Bulbs (unpeeled, break into cloves)
500ml Olive Oil
1 tbsp Coarse Salt
1 tsp Coarse Black Pepper
Aioli
200g Mayonnaise
1 tbsp Roasted Garlic Puree
2 tbsp Chopped Parsley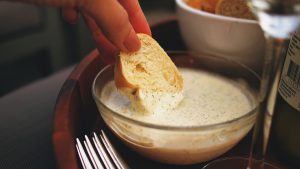 DIRECTIONS:
Preheat oven to 160°c. Toss garlic cloves with oil, salt and pepper. Roast in oven for ½ hour. Allow to cool.
Peel the garlic cloves and puree the roasted garlic with olive oil into a paste. Store in an air tight jar and cover the top of the paste with a layer of olive oil. Chill when not in use.
Mix the roasted garlic puree with the mayonnaise and chopped parsley. Serve as a dip or spread for sandwiches.