Topinambour Soup – Jerusalem Artichoke Soup is a show-stopping appetizer that is creamy and nutritious!
Cuisine : European  Course : Appetizer  Skill Level : Novice
Prep : 15 mins Cook : 15 mins Ready in : 30 mins  Serves : 1-2 Servings
---
INGREDIENTS                                          
1kg Topinambour, Jerusalem Artichoke
200gm White Onions
250gm Butter
100ml White Wine
2L Vegetable Stock or Water
300ml Cream
60ml Almond Oil
100gm Malto Sec
1 punnet Purple Shiso
Bay leaf, salt & black pepper for seasoning
Deco: Freid Artichoke Chips, Purple Shiso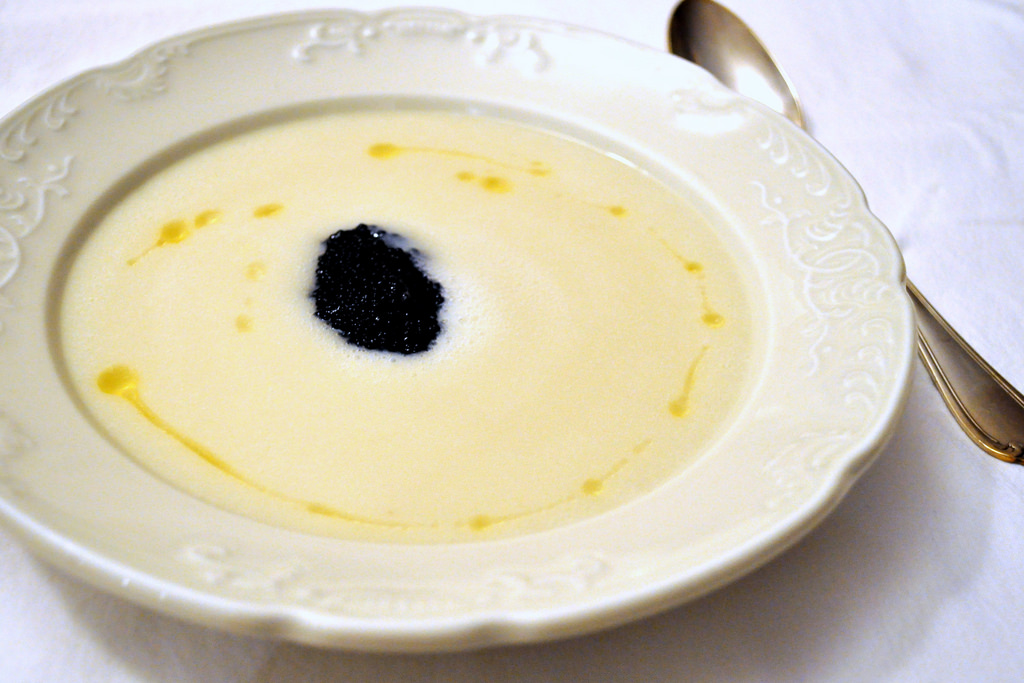 DIRECTIONS FOR TOPINAMBOUR SOUP                                    
Peel the topinambour (Jerusalem artichoke), cut in half. Peel the onions, cut in small cubes.
Melt the butter in a bigger pot, by low heat – add the onions and sauté them without giving colour.
Add the topinambour – sauté for 5minutes, season with salt, pepper and bay leaf.
Add the white wine, reduce the wine by half. Add the vegetable stock or water.
Boil till the topinambour are soft and blend till smooth.
Taste and season again, might add a little bit of fresh lemon choose if it needs a bit more acid. Last – transfer back into the pot, add the cream – boil ones and serve.
DIRECTIONS FOR ALMOND SOUP
Place the malto-sec into a blender, slowly add the almond oil. Once everything is combined, give it a strong blend.
ASSEMBLING
Place the powder in the soup bowl, followed by the fried artichoke chips, garnished with purple shiso. Serve the soup in extra pot and pour into the bowl at the table.