Japanese Strawberry Shortcake is made from a light and airy shortcake layered with Chantilly cream and sliced strawberries that are popular in Japan!
Cuisine : Baking  Course : Dessert  Skill Level : Novice
Prep : 45 mins Cook : 15 mins Ready in : 60 mins  Serves : 1×7" Cake
---
INGREDIENTS                                          
Japanese Strawberry Chantilly Shortcake

3 Egg
1 Egg Yolk
80gm Castor Sugar
110gm Cake Flour
20ml UHT Milk
30gm Corn Oil
½ tsp Vanilla

Chantilly Cream

200gm Fresh Whipping Cream 35%
150gm Pastry Cream (recipe below)

Pastry Cream

250gm Milk
2 Egg Yolk
50gm Sugar
2 tbsp Corn Starch
1 tsp Vanilla Paste

Liquor Syrup

50gm Castor Sugar
50gm Hot Water
1 tbsp Liquor
150gm Strawberry Slices
Extra Strawberry for Cake Decoration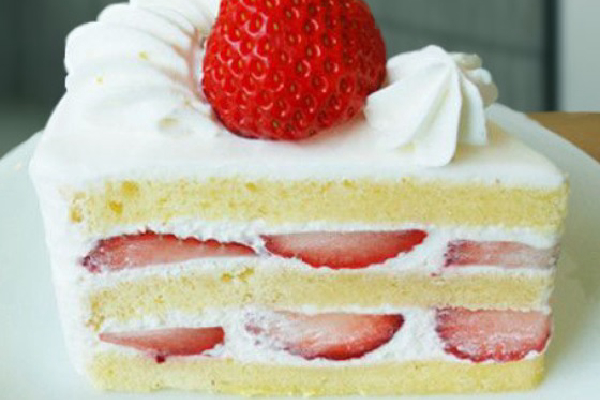 DIRECTIONS FOR JAPANESE STRAWBERRY CHANTILLY SHORTCAKE
Whisk egg & sugar till ribbon stage over a pot of water.
Fold in sifted flour & vanilla.
Fold in melted butter.
Bake 200C for 12 mins in 3×7" trays.
DIRECTIONS FOR CHANTILLY CREAM
Fold the 2 ingredients together.
DIRECTIONS FOR PASTRY CREAM
Boil the milk.
Mix the yolk, sugar & corn starch together.
Temper the milk with yolk mixture & bring back to boil till thick.
Cool down the mixture.
ASSEMBLY
Level the shortcake and brush it with liquor syrup for the cake to stay moist.
Layer the cake with chantillly cream and sliced strawberries.
Decorate with full strawberries.