A combination of cheesecake and brownies makes a rich, fudgy and dreamy Cheesecake Brownie!
Cuisine : Dessert  Course : Baking  Skill Level : Novice
Prep : 40 mins Cook : 40-45 mins Ready in : 1 hr 20 – 1 hr 25 mins  Serves : 1-2 Servings
---
INGREDIENTS                                          
Brownies Batter

60gm Valrhona Equatorial
62gm Valrhona Cocoa Mass
105gm Unsalted Butter
80gm Eggs, beaten
140gm Sugar
12gm Inverted Sugar
Pinch of Salt
50gm Cream
55gm Cake Flour, sifted
50gm Walnut, chopped

Cheesecake Batter

365gm Cream cheese, room temp
100gm Sugar
Pinch of Salt
100gm Eggs
55gm Sour Cream
32gm Cream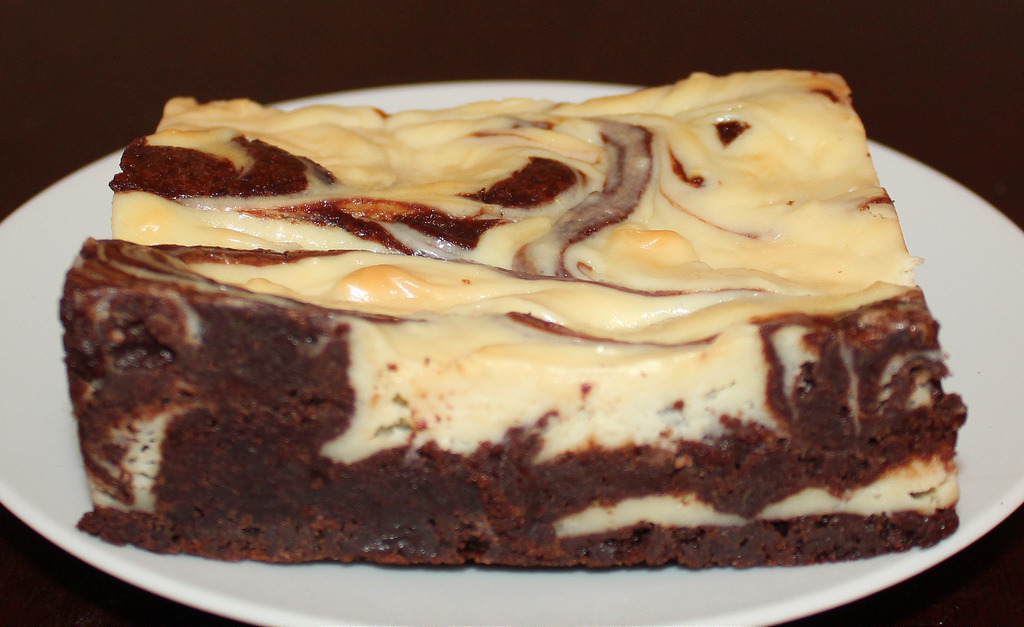 DIRECTIONS FOR BROWNIES BATTER                                        
Prepare the workstation.
Scale the ingredients.
Melt the chocolate, cocoa mass and butter together.
Whisk up the eggs with sugar, inverted sugar and salt.
Fold the chocolate mixture (40C) into the egg mixture.
Fold in cream.
Fold in flour and walnuts.
Set aside mixture.
DIRECTIONS FOR CHEESECAKE BATTER
Prepare the workstation.
Scale the ingredients.
Soften cream cheese with sugar and salt at low speed.
Add eggs gradually until just mixed.
Add sour cream and cream until just mixed.
Set aside mixture.
ASSEMBLING
Pour two-third of the brownies batter into prepared mould. Spread evenly.
Pour cheesecake batter onto brownie batter. Spread evenly.
Drop the reserved brownie batter in large dollops over the topping. Draw the handle of a spoon through the two batters to create a swirled effect.
Bake at 175C until the top is just set, 40 to 45 mins. Let cool completely in the pan on a wire rack before cutting into desired size.