Tomato/Watermelon Gazpacho with Greek Yoghurt & Asian Herbs
by Susanne Despature

Make this fuss-free, no-cooking-required gazpacho for an impressive starter to your meal! 
Cuisine : European Course : Appetizer Skill Level : Novice
Prep : 40 mins Cook : 0 mins Ready in : 40 mins Serves : 6

---
INGREDIENTS:
200g Chopped Tomatoes (Can)
1 tbsp Tomato Puree
1 small Red Bell Pepper
½ – 1 medium Red Chili, without seeds
250g Watermelon
1 stalk Lemongrass, finely chopped
10cl Chicken stock
White or Red Wine Vinegar, Tabasco, Salt, Pepper
Herb Sour Cream

200g Sour Cream
50g Herbs (e.g. Thai Basil, Coriander, Sweet Basil, Flat Parsley..) finely chopped
Salt & Pepper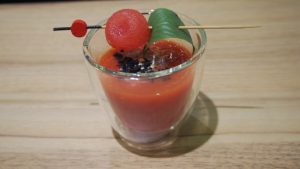 DIRECTIONS:
Remove the skin and dice watermelon flesh.
Wash bell pepper and remove stem. Dice them in 2×2 cubes and combine with chopped tomatoes, watermelon, chicken stock, tomato puree, chili and chopped lemongrass in a blender. Blend for 2 mins of position 3 of Cuisinart Blender or until very smooth, then strain through a sieve, pressing with a soup ladle. Season to taste with salt, pepper, some white vinegar and Tabasco, and then keep refregerated until you serve.


Chilled Herb Sour Cream:

Combine all ingredients and palce in the freezer for 30 mins, mix from time to time with a fork to prevent crystals from forming – don't freeze completely!

To Serve: 

Mix well gazpacho before serving – then ladle into 6 soup dishes. Add a splash of chilled herb sour cream in the middle, and drizzle some oilive oil on top. Garnish with herbs and serve with olive oil crostini.