Learn how to make this fluffy and soft Surabaya Cake recipe by Chef Julie Yee! It is light , moist and taste amazing with strawberry jam between each layer.
Cuisine : Baking Course : Dessert Skill Level : Novice
Prep : 20 mins Cook : 20 mins Ready in : 40 mins Serves : 6-8

---
INGREDIENTS:
30gm Egg yolks
280gm (1 1/2 cups) Granulated sugar
375gm (2 1/2 cups) Butter, softened
150gm (1 1/4 cups) Flour
1 tbsp Mocha or chocolate paste (or 2 tbsp cocoa powder)
Strawberry Jam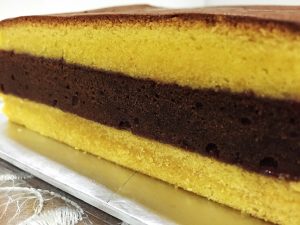 DIRECTIONS:
Pre-heat the oven 180C degrees Celsius and grease the pan.
Beat the butter at high speed for about 10 minutes until it turns pale white in colour.
Beat the egg yolks with sugar until pale and tripled in volume. When you lift the beater, it should form a ribbon.
Pour the yolk mixture slowly into the butter mixture and fold until fully combined. Be sure to scrape the sides of the bowl for any butter so the entire mixture is incorporated.
Sift in the flour and fold. Careful not to over fold as over mixing will result in a reduced volume of batter.
Divide the mixture equally into 3 portions. For one portion, add cocoa powder/chocolate/mocha paste and lightly fold.
Bake in 3 separate pans for 20 minutes or until cake springs back when touched.
Let the cake cool and spread strawberry jam between each layer.