This is some serious comfort food we're talking about – cheesy mashed potatoes with ham, all made in one skillet! Perfect to finish up your leftover mashed potatoes! #QuickBites
This simple salad of ripe tomatoes with fragrant herbs and finely diced onions makes a refreshing side salad!
Cuisine : European Course : Appetizer Skill Level : Novice
Prep : 10 mins Cook : 0 mins Ready in : 10 mins Serves : 1-2

---
INGREDIENTS:
1 Cucumber
4 Tomatoes, fresh, ripe
2 tbsp Parsley, chopped fresh
Mint large handful
2-3 tsp Onions, finely chopped
2 tbsp Lemon juice
3 tbsp Avocado (or olive oil)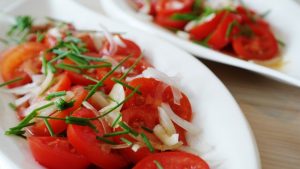 DIRECTIONS:
Finely cube cucumbers (you may lightly peel the skin first if you like)
Peel the tomatoes, seed them, and chop them into small pieces.
Mix the tomatoes with the cucumber, parsley, mint, onion, lemon juice or vinegar, oil and salt and pepper to taste.