Go back to basics with this recipe by Chef Eric Low. The perfect sirloin steak, glazed with a drizzle of classic mushroom sauce. 
Cuisine : European Course : Main Skill Level : Novice
Prep : 15 mins Cook : 25 mins Ready in : 40 mins Serves : 4

---
INGREDIENTS:
For The Steak

4pcs Sirloin Steak (about 180-200g each)
1tsp Dijon Mustard
1 tsp Salt
1tsp Coarse Ground Black Pepper

For The Mushroom Sauce

400ml Basic Brown Sauce
30g Butter
½tsp Garlic
40g Chopped Onions
2psrigs Fresh Thyme (optional)
250g Mushrooms (any kind)
40ml Whipping Cream (35% fat)
Salt and Pepper to taste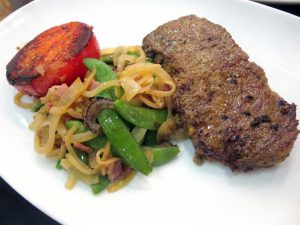 DIRECTIONS:
Pre-heat oven to 100ºC. Rub the steaks with mustard and season with salt and a generous amount of pepper. Simmer the basic brown sauce and reduce by halve.
Heat pan and sear the meat on both sides. Transfer to oven and slow bake at 100ºC for 10-15mins.
Melt butter and sauté the garlic, onions and mushrooms for 2 minutes. Add fresh thyme and cook briefly.
Add in the brown sauce, bring to boil, stirring constantly. Pour in the cream and mix well. Serve with steaks.