No need to fly to Thailand, recreate this popular Thai favourite from the comfort of your own kitchen. 
Cuisine : Asian Course : Appetizer Skill Level : Novice
Prep : 10 mins Cook : 5 mins Ready in : 15 mins Serves : 3

---
INGREDIENTS:
1 Green papaya
5 Cherry tomatoes
1 Carrot
2 Long beans, trimmed and cut into 1 inch sections
5 Bird's eye chilli
4 cloves Garlic
1 tbsp Dried shrimp
1 tbsp Roasted peanuts
2 tbsp Lime
2 tbsp Fish sauce
1 ½ tbsp Palm sugar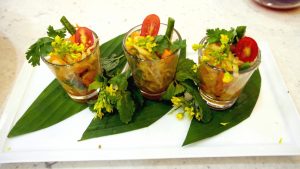 DIRECTIONS:
Julienne the papaya using a knife, zigzag peeler or a mandolin slicer. Set aside.
Pound the chillies and garlic; add palm sugar and long bean. Pound lightly.
Season with lime juice and fish sauce.
Add in the cherry tomatoes, shredded papaya and carrots. Mix well before adding in peanut and dried shrimps. Toss lightly and mix well.
Transfer to serving plate and garnish with coriander.