Looking for a healthy Cheesecake recipe? Than you got to try this light, silky smooth Tofu Cheesecake that is nutritious and delicious!
Cuisine : Baking Course : Dessert Skill Level : Novice
Prep : 30 mins Cook : 0 mins Ready in : 270 mins Serves : 6-8

---
INGREDIENTS:
120g Digestive biscuits (Base)
70g Butter, melted (Base)
150g Silken tofu (Filling)
125g Cream cheese (Filling)
80g Greek yoghurt (Filling)
25g Butter, melted (Filling)
50g Icing sugar (Filling)
30g Milk (Filling)
20g Hot Water
11/2 tsp Powdered Gelatine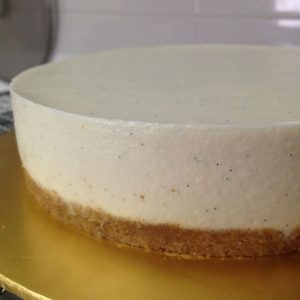 DIRECTIONS:
Prepare a 6 inch spring form pan by lining the base with baking paper.
In a food blender, blend the biscuits until they resemble fine breadcrumbs.
Transfer the crumbs into a bowl and stir in the melted butter. Press the crumbs onto the base of the pan, making sure it is as even as possible. Leave it in the fridge for at least 10min to set the base.
Place all the ingredients for the filling into a food processor and pulse a few times to get a smooth mixture.
In a small bowl, combine the gelatine and hot water and stir thoroughly until all the gelatine has dissolved.
Add the gelatine to the filling and blend to incorporate thoroughly.
Pour the filling through a sieve over the base. The sieve helps to remove any air bubbles.
Place the cheesecake into the fridge and let set for at least 4 hours, preferably overnight.