The holiday season is here! And that also means it is time to bring out the roasting tin and prepare family holiday meals.Poultry such as turkey and chicken usually takes centrestage during this time, but causes frantic preparation for plenty of home cooks. Do not fret, they are easy to prepare with few step-by-step preparation and tips, you would be pleasantly surprised!
Cuisine : European Course : Main Skill Level : Novice
Prep : 100 mins Cook : 60 mins Ready in : 160 mins Serves : 4

---
INGREDIENTS:
Roasted Herbed Chicken or Turkey (For 1.5 to 2 kg chicken – double ingredients for an average 4 kg turkey) For Brining

1/3 cup Salt
4 cups Water
1 tbsp Peppercorns
1 Bay Leaf
2 tbsp Sugar
Lemon – cut into wedges
1 tbsp Oregano
Few sprigs Fresh Basil Leaves
Few sprigs Rosemary

For Marinade

1 tsp Salt
1 tbsp Black Pepper
1 tbsp Olive Oil
Few cloves Garlic
50g Butter
1 tsp Honey
Few sprigs Rosemary

Garlic Roasted Potatoes with Thyme

1kg Russet Potatoes, cut into 4
3 cloves Garlic, minced coarsely
2 tbsp Extra Virgin Olive Oil
1 tbsp Dried Thyme
1 tsp Black Pepper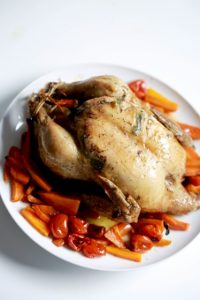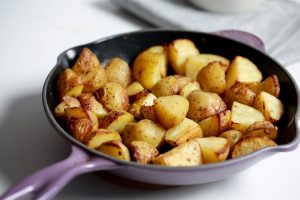 DIRECTIONS:
          Roasted Herbed Chicken or Turkey
In a large pot, simmer all ingredients listed under 'brining' for around 15 min.

Let the brine cool slightly before soaking the chicken or turkey in. Cover the pot and refrigerate for 12 hours.

The next day, rinse the bird.

Combine the butter and minced garlic, and insert into the breast pockets, leaving the skin intact.

Rub the whole chicken or turkey with salt, black pepper and honey. Throw in the rosemary and marinade for an hour.

Preheat the oven to 180°C.

Roast the bird for around 1 hour, or an average of 3 hours for turkey.

Garlic Roasted Potatoes with Thyme

Wash the potatoes and pat dry.

Heat the olive oil in a skillet or casserole.

Saute the garlic until fragrant.

Add in the thyme, potatoes, salt and black pepper.

Once the edges start to brown, transfer the skillet to preheated oven of 180°C and roast for 20 min, stirring twice during the process.