Iberico Pluma Pork, Crushed Potato with Caramelized Onion and Marsala Wine Sauce
by Felix Chong

Relish the flavourful Iberico Pluma Pork with perfect Caramelized Onion topped with sweet Marsala wine that will leave you wanting more!
Cuisine : European Course : Main Skill Level : Novice
Prep : 15 mins Cook : 60 mins Ready in : 75 mins Serves : 1

---
INGREDIENTS:
1 kg Iberico Pluma Pork
500 g US potato
3 pcs Yellow onion
Drizzle of Extra virgin oil
300 ml Veal stock
2 tbsp Unsalted butter
1 stalk Rosemary
150 ml Marsala wine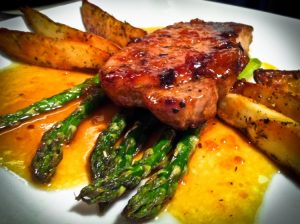 DIRECTIONS:
Place the potato in a pot of water with salt and bring to boil, simmer it and cook for 45 minutes till the potatoes are soft.
Once the potatoes are cooked, remove from the water and set aside to cool.
Remove the potato skin and place it in a mixer bow.
De-vein the pork and season well with salt and pepper on both side of the meat.
Heat up a non-stick pan, drizzle with olive oil and sear the pork on both sides.
Meanwhile heat up another pot with olive oil, place the onion in and slowly caramelize it without browning them.
Once the onion is caramelized, add in the cooked potato and lightly crush them. Season it well with salt and pepper.
Heat up a small pot with the marsala wine. Flambé it till the alcohol burns out, further reduce it to almost half of it and add in the veal stock. Reduce for another 2 to 3 minutes and monte with butter.