For a classic Italian dessert, try Chef Chris' Tiramisu recipe! The ladyfingers are soaked in coffee and layered with creamy mascarpone to add different textures to the dessert. If possible, make this ahead of time as it allows all the lovely flavours to mingle and get to know each other!
Cuisine : Baking Course : Dessert Skill Level : Novice
Prep : 30 mins Cook : 10 mins Ready in : 40 mins Serves : 2-4

---
INGREDIENTS:
Mixture A

2 nos. Egg Yolks
33g Sugar
50g Marsala/Kahlua
20g Water

Mixture B

Mixture C

120g Cream
200ml Coffee
6 nos. Ladyfingers
Cocoa Powder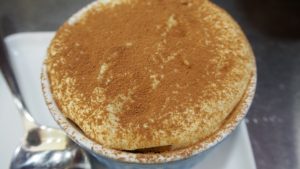 DIRECTIONS:
          Mixture A
Whisk over warm water bath till thick and approximately double in size.

Cool over ice bath.

Mixture B

Paddle till smooth and creamy.

Fold into above Mixture A.

Mixture C

Whip the cream to soft peaks and gently fold into Mixture B.

Prepare the coffee and allow it to cool.

Soak ladyfingers in the coffee.

To Assemble

Follow the above instructions.

Lay soaked ladyfingers at the bottom of the ramekin.

Add layer of Mixture C.

Add another layer of soaked ladyfingers.

Add another layer of Mixture C.

Dust with cocoa powder or grated chocolate.