This might be the most popular crepe of all crepe dishes! Crêpe Suzette is a French dessert made from the sauce of orange sauce,  caramelized sugar, and butter. Definitely a good way to end a meal!
Cuisine : Baking Course : Dessert Skill Level : Novice
Prep : 35 mins Cook : 5 mins Ready in : 40 mins Serves : 4

---
INGREDIENTS:
Crepes

1 Large Egg
90ml Milk
75g Flour
25g Butter (melted)
15g Sugar
½ tsp Vanilla Extract
1 tbsp Liqueur: Cointreau, Grand Marnier or any orange liqueur (optional)
Extra Butter (for coating the pan)

Orange Sauce

50g Butter
110ml Orange Juice
Orange Zest (from 1 orange)
Lemon Zest and Juice (from 1 lemon)
1½ tbsp Brandy, Cointreau or Grand Marnier (optional)
¼ cup of any liqueur (for flaming method)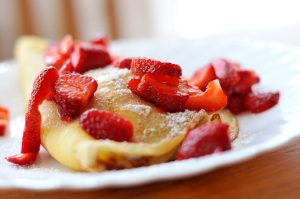 DIRECTIONS:
          For Crepes
Mix the flour and the sugar together.

Mix the rest of the ingredients in a separate bowl and pour it into the flour mixture. Using a hand whisk stir well until combined.

Let the batter rest for at least 30 minutes*

Alternative method: You may simply put all the ingredients into the blender and blend for 30 seconds or until you get a smooth batter.

Heat a pan, melt in a knob of butter, pour in a ladle of the batter and swirl until the mixture coats the bottom of the pan.

Once the top is set and the bottom crepe is a light brown colour, flip it with a spatula and let it cook for another 30 seconds or so.

Slide the crepe off the pan onto a plateRepeat with the rest of the batter. Placing the crepes in between sheets of baking paper.

You may store them in the refrigerator at this point for up to 2 days or freeze for 2 weeks.

For Sauce

Heat a wide pan and melt in the butter.

Add in the rest of the ingredients and bring to a boil.

Add the crepes in one by one and fold it in the pan.

To Serve

Place the 2 crepes on a serving plate.

Warm the alcohol for 1 min over low heat. Set it alight with a long candle light.

Pour the flaming alcohol over the crepes. Serve with vanilla ice cream.