Savour the taste of Thailand with piping hot green curry ladled over steaming white rice. 
Cuisine : Asian Course : Main Skill Level : Novice
Prep : 10 mins Cook : 25 mins Ready in : 35 mins Serves : 2

---
INGREDIENTS:
Green Curry Paste

1 tsp Roasted coriander seeds
1 tsp Roasted cumin
15 Large green chilies
3-4 Chilli leaves
1 tsp Salt
1 cm Chopped galangal
3 stalks Lemon grass
2 pcs Kaffir lime skin finely chopped
2 stems Chopped coriander root
9 cloves Thai garlic
5 Shallots chopped
1 tsp Shrimp paste

Green Curry Paste

200g Chicken thigh, cut into chunks
2 ½ cup Coconut milk
½ cup Water
2 Small egg plants
2 Red chilli, cut diagonally
3 pcs Kaffir lime lime
¼ cup Sweet basil leaf
2 tbsp Fish sauce
2 tbsp Palm sugar
2 Potatoes, cut into cubes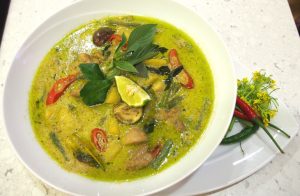 OLYMPUS DIGITAL CAMERA
DIRECTIONS:
          For The Green Curry Paste
Prepare the green curry paste by pounding the peppercorns, coriander seeds and cumin. Then add in the chilli and salt, blend well.

Add in the remaining ingredients except shrimp paste.

Put shrimp paste in small increments and continue to pound till smooth and fine. Set aside for use.

For The Green Curry Chicken

In a heated saucepan, heat 1 tbsp oil and add in the green curry paste and sauté over low heat.

Reduce heat and gradually add 1 cup of coconut milk and stir till green oil surfaces.

Add the chicken, potatoes and lime leaves in, continues cooking for 3mins till meat is cooked thoroughly.

Add in remaining coconut milk and season with sugar and fish sauce. Add in egg plants and when eggplant is cooked, sprinkle in the sweet basil leaves and red chillies. Turn off heat and serve hot.