Love both Oreo and chocolate? You got to try this chocolaty Molten Lava Cake with Oreo Centre by Chef Michele Ow for the ultimate dessert!
Cuisine : Baking Course : Dessert Skill Level : Novice
Prep : 25 mins Cook : 5 mins Ready in : 30 mins Serves : 2-4

---
INGREDIENTS:
120g Chocolate buttons
80g Butter
40g Sugar
2 Eggs
35g Plain flour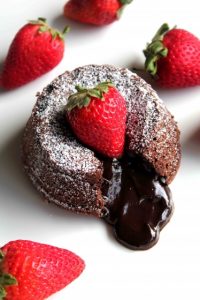 DIRECTIONS:
Chop Oreos up finely in a food processor.
With hands (or a spoon, I just think hands are faster), mash softened cream cheese and crushed Oreos until well combined.
Roll into 1″ balls and place on a wax covered cookie sheet. Put in freezer for 15 minutes.
Beat sugar and eggs.
Bain Marie chocolate and butter.
Incorporate chocolate mixture into egg / sugar mixture.
Fold in flour.
Divide into 6 ramekins.
Pop an Oreo ball into the centre.
Bake at 250'c for 5-6 mins.