This heavenly version of Banoffee Pie with a crumbly discuit dase filled with rich, sweet caramel sauce is the perfect showstopper dessert!
Cuisine : Baking Course : Dessert Skill Level : Novice
Prep : 20 mins Cook : 70 mins Ready in : 90 mins Serves : 12

---
INGREDIENTS:
Base
100 g Butter
250 g Digestive Biscuits
100 g Melted Bitter Chocolate
Caramel
100 g Butter
2 tbsp Brown Sugar
1 tin Condensed Milk
4 tbsp Whipping Cream
1/2 cup Chopped Walnut [Optional]
Toppings
4 no Banana
200 g Whipping Cream
Sprinkling of Grated Dark Chocolate
Dusting of Cocoa Powder
Dusting of Cinnamon Powder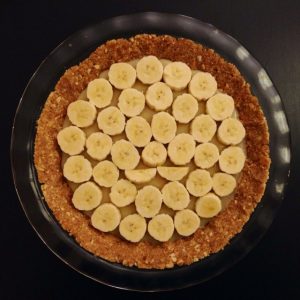 DIRECTIONS:
Melt the butter and add into the crushed biscuits and mix well.
Make a pie shell with the side 1.5cm up.
Spread a thin layer of melted chocolate at the base. Chill in the fridge.
Melt butter and sugar under low heat till sugar has dissolve.
Add in condensed milk and bring to a boil. Simmer for another 5mins till you get a lovely caramel. Add in the whipping cream and simmer for another 5mins.
Pour in the caramel into the biscuit base and chill for 1hr or till set.
Remove pie from tin to serving tray.
Arrange banana slices on caramel and spread some whipped cream on top.
Dust with cocoa powder, cinnamon powder and Sprinkle with grated chocolate. Decorate with extra banana.