Try this humble vegetable stew recipe that is a super-healthy and hearty from Chef Michele Ow!  
Cuisine : European Course : Appetizer Skill Level : Novice
Prep : 20 mins Cook : 45 mins Ready in : 65 mins Serves : 6-8

---
INGREDIENTS:
4 tbsp Olive oil
1 Onion (finely chopped)
2 Garlic cloves (crushed)
1 Eggplant (cubed)
1 Red pepper (cut into strips)
1 Green pepper (cut into strips)
3 Zucchini (peeled if you like and cut into chunks)
1kg Tomatoes (skinned and de-seeded or light tomato purée)
Thyme and rosemary (preferably fresh)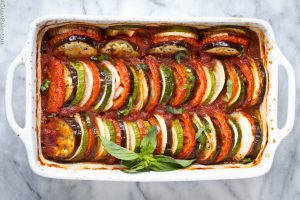 DIRECTIONS:
Heat the olive oil in a frying pan and fry the onion and garlic and add the eggplant and the red and green peppers.
When they have softened, add the zucchini, tomatoes and herbs, some salt and pepper, and cook for a further 10-15 minutes until cooked. While the vegetables are cooking, preheat the oven to 180°C and prepare le crumble.
In a food-processor, or with your fingers, rub the butter into the flour and parmesan. When you have a mixture resembling breadcrumbs, mix in the toasted pine nuts and some pepper.
When the ratatouille is really nice and soft and cooked, put the cooked vegetables into a gratin dish, cover them with the crumble mixture and cook in the oven for about 30 minutes or until the top is golden and crispy.