Indulge in this juicy, seasoned to perfection Tenderloin with Red Wine Sauce that will leave you wanting more!
Cuisine : European Course : Main Skill Level : Novice
Prep : 20 mins Cook : 30 mins Ready in : 50 mins Serves : 8

---
INGREDIENTS:
Basic Brown Sauce
4 tbsp Oil
1 kg Beef Bones / Oxtail
1 White Onion, rough cut
1 extra White Onion, cut into half, grill cut side on pan until charred
1 small Carrot, rough cut
1 stalk Celery, rough cut
1 tsp Chopped Garlic
1 tbsp Tomato Paste
200 ml Port/ Red Wine
3 L Water
Mushroom Sauce
50 g Butter
1/2 tsp Garlic
40 g Chopped Onions
250 g Mushroom [any kind]
500 ml Basic Brown Sauce
2 sprigs Fresh Thyme
40 ml Whipping Cream [35% Fat]
Salt to Taste
8 pcs of 80-100 g Tenderloin Steak
1 tsp Dijon Mustard
Salt
Coarse Ground Black Pepper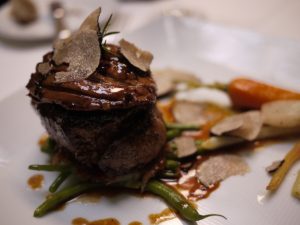 DIRECTIONS:
To make the Basic Brown Sauce, kindly follow Step 2 – 6.
In a saucepan, heat the oil and brown the bones and tendon.
Add the vegetables and garlic, sauté until they are slightly brown.
Add the tomato paste and deglaze with the red wine.
Pour in the water and bring the mixture to boil. Simmer until ¼ (about 500 – 600 ml) of it is left.
Strain and discard the solids. Reserve.
To make the Basic Brown Sauce, kindly follow Step 8 – 10.
In a saucepan, melt the butter and sauté the garlic, onions and mushrooms for 2 minutes.
Add in the brown sauce, bring to boil, stirring constantly.
Pour in the cream and mix well. Reserve.
To make the Steak, kindly follow Step 12-13.
In a non-stick frying pan, grill the steaks for about 2 – 3 minutes over high heat on each side to get a medium doneness.
Serve with the mushroom sauce.