This Cream Corn Kaya Chiffon cake by Chef Julie Yee is sweet, light and fluffy and perfect for tea break!
Cuisine : Baking Course : Dessert Skill Level : Novice
Prep : 20 mins Cook : 22 mins Ready in : 42 mins Serves : 6-8

---
INGREDIENTS:
4 Egg White
8 Egg Yolk
90gm Castor Sugar
120gm Cake Flour
1teasp Baking Powder
60gm Corn Oil
40gm Hot Water
250gm Thick Coconut Milk
130gm Milk
200gm Cream Corn
100gm Sugar
40gm Hoon Kueh Powder
25gm Custard Powder
A pinch of Salt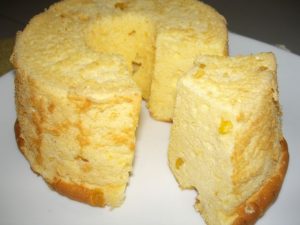 DIRECTIONS:
Preheat the oven at 200ºC for 30mins – use the middle shelf
Whisk egg white then add in fine sugar.
Add in egg yolks & beat for another 3mins.
Pour in water & mix for 10seconds.
Fold in the sifted flours.
Add in warm corn oil by hand. Mix well.
Bake at 180ºC for 22mins. Slice into 3 layers when cool.
Spread with the Cream Corn kaya fudge between layers.
Mix thick coconut milk, milk, cream corn, sugar, hoon kueh powder, custard power, salt & simmer all ingredients together till boil & thick.