Learn to make a classic Tart Au Pommes (Apple Pie) with a flaky crust topped with toothsoome apple for a heart-warming family gathering!
Cuisine : Baking Course : Dessert Skill Level : Novice
Prep : 50 mins Cook : 25 mins Ready in : 75 mins Serves : 6-8

---
INGREDIENTS:
125 g Flour (Crust)
60 g Butter (Crust)
30 g Sugar (Crust)
2 tbsp Cold water (Crust)
1/2 tbsp White distilled vinegar (Crust)
5 Apples (Filling & Topping)
30 g Sugar (Filling & Topping)
30 g Butter (Filling & Topping)
Cinnamon to taste (Filling & Topping)
Nutmeg to taste (Filling & Topping)
3 tbsp + 1 tbsp Sugar for topping cinnamon (mixed together) – (Filling & Topping)
2 tbsp Apricot jam (Filling & Topping)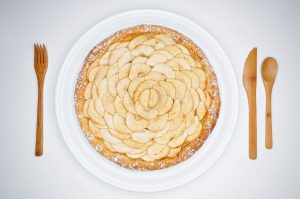 DIRECTIONS:
Crust
Mix the flour and the sugar in a bowl.
Chop the butter and rub it into the flour until it resembles bread crumbs.
Stir in the water and the vinegar. Place the dough in plastic wrap and refrigerate for 30 min until firm.
Filling
Peel and Chop up Four of the apples. Place them in a pan with the butter, sugar, cinnamon and the nutmeg. Add 2 tbsp of water and cook over high heat until the mixture starts to bubble.
Turn the heat down and cook until the mixture all the moisture evaporates.
Assemble the Tart
Divide the dough into 3 parts. Roll the out on a floured surface and place on a baking sheet with baking paper. Sprinkle the dough with a little cinnamon sugar. Top with the apple mixture, leaving an inch of space around the edges.
Slice the fifth apple and arrange on top of the filling. Roll up the edges, to form sides to the tart. Sprinkle over some more cinnamon sugar and bake at 180C for 25 min or until golden brown.
Warm the apricot jam with a tsp of water and brush the top of the tart for a glossy finish.