Tagine with Apricots, Dried Raisins, Almonds and Couscous
by Susanne Despature

Learn to make a traditional North African American dish, Chicken Tagine with Apricots and Dried Raisin served with couscous using Chef Susanne's all-star recipe!
Cuisine : Mediterranean Course : Main Skill Level : Novice
Prep : 30 mins Cook : 85 mins Ready in : 115 mins Serves : 6-8

---
INGREDIENTS:
1 Large chicken, 1,5 kg, cut in 8 pieces (wings and backbones used for stock)
2 Big yellow onions
3 tbsp Olive oil
1 tsp Salt
1/4 tsp Ground pepper
1/2 tsp Ground cinnamon
2 sticks Cinnamon
1/2 tsp Ground ginger
1/2 tsp Ground cumin
1 pinch of Saffron
1/2 L Chicken stock
6 sprigs Flat-leaved parsley & cilantro
2 tbsp Honey
12 Dried apricots
100g Blond raisins
100 ml Syrup (50 g water & 50 g sugar, brought to a Boil)
Blanched almonds
1 tbsp Olive oil
1 tbsp Fresh cilantro leaves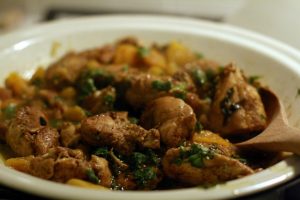 DIRECTIONS:
Stir together ground cinnamon, ginger, cumin, salt, pepper, saffron and 2 tablespoons oil in a large bowl. Add chicken pieces and turn to coat well.
Heat clarified butter or oil in a skillet (or tagine base), uncovered, over moderate heat until hot but not smoking. Then brown the chicken fillets (cut in 2 pieces each) for 3-4 minutes, until golden brown (but still raw inside) and transfer to a plate. Add the other chicken parts, adding any spice mixture left in bowl and brown them for 5-6 minutes, then transfer to a plate.
Add onion and fry them over medium heat, stirring frequently, until soft, about 8 minutes. Tie cilantro and parsley into a bundle with kitchen string and add to the Tagine along with ½ cup of chicken stock, 1 cinnamon stick and all the chicken pieces (except the delicate and tender fillet) with the juices accumulated on plate. Bring almost to a boil, then reduce heat and simmer, covered, for 1 hour. (Alternatively, you can cook the Tagine in the oven at 150 ºC for 1 ½ hour.)
While chicken cooks, bring the syrup and 1 cinnamon stick to a boil in a small saucepan and add the halved apricots and raisins. Let it simmer for 5-6 minutes, then stop the heat and let the dried fruits rehydrate in the syrup. Heat up 1-2 tablespoons of oil in a small skillet over moderate heat and fry the almonds, stirring it occasionally until golden brown for about 1-2 minutes. Transfer it with a slotted spoon to paper towel to drain.
Ten minutes before the chicken is done, add the apricot mixture and chicken fillet pieces to Tagine.
Discard herbs and cinnamon stick, add honey and reduce sauce if too liquid. Serve Chicken Tagine sprinkled with some cilantro leaves and almonds on top.
In a large and heavy pan, bring chicken stock to a boil along with olive oil. Stop heat, add couscous and cover immediately.
Let stand for 5 minutes until couscous is tender and stock absorbed.
Stir in butter, then fluff with fork, add chickpeas and serve along with Tagine.