Try this moist and light No Bake Strawberry Cheesecake for a lazy high-tea weekend that is amazingly delicious!
Cuisine : Baking Course : Dessert Skill Level : Novice
Prep : 15 mins Cook : 10 mins Ready in : 145 mins Serves : 12

---
INGREDIENTS:
For the Crust

85g Butter, melted, plus extra for tin
140g Digestive biscuits, crushed into fine crumbs
1 tbsp Sugar, or ½ lemon's zest or 1-2 tablespoon cocoa powder (optional)

For the Cheesecake Filling

600g Philadelphia Cheese, or other full-fat soft cheese
200g Caster Sugar (may be reduced to 100g)
400ml Heavy Cream, whipped and chilled
2 tsp Lemon Juice
Cut strawberries or Jam
3 tsp Gelatin in 3 tbsp boiling hot water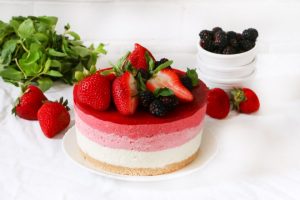 DIRECTIONS:
Position an oven shelf in the middle of the oven. Preheat the oven to 160°C. Line the base of a 23cm springform cake tin with parchment paper. For the crust, melt the butter in a medium pan. Stir in the biscuit crumbs and sugar so the mixture is evenly moistened. Press the mixture into the bottom of the pan and bake for 10 minutes. Cool on a wire rack while preparing the filling. Brush the sides of the springform tin with melted butter.
***Alternatively, you may simply want to chill the crust to have a different crust texture from the New York baked version.
Beat the very chilled heavy cream until stiff.
For the filling, in a table top mixer fitted with the paddle attachment, beat the soft cheese and lemon juice at medium-low speed until creamy, about 2 minutes. With the mixer on low, gradually add the sugar, then the cooled gelatin and, scraping down the sides of the bowl and the paddle twice.
Fold in heavy cream and cut fruit into the cream cheese. Pour the filling into the tray and smooth the top before setting the tray into fridge to set (minimum 2 hours for full sized cake).