Take your love of chocolate to a new level with these soft double chocolate chip cookies.
Cuisine : Baking Course : Dessert Skill Level : Novice
Prep : 15 mins Cook : 10 mins Ready in : 25 mins Serves : 18

---
INGREDIENTS:
280g All-purpose Flour
65g Baking Cocoa
1 tsp Baking Soda
½ tsp Salt
227g Butter
200g Packed Brown Sugar
150g Sugar
1 tsp Vanilla Extract
2 nogs. Eggs
250g Semi-sweet Chocolate Chips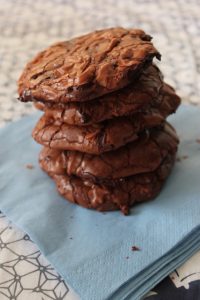 DIRECTIONS:
Preheat oven to 170°C.
Combine flour, cocoa, baking soda and salt in a small bowl. Beat butter, brown sugar, granulated sugar and vanilla extract in a large mixing bowl until creamy. Beat in eggs for about 2 minutes or until light and fluffy. Gradually beat in flour mixture. Stir in morsels. Drop by rounded tablespoon onto ungreased baking sheets.
Bake for 8 to 10 minutes or until cookies are puffed. Cool on baking sheets for 2 minutes; remove to wire racks to cool completely.