You can now recreate the most juiciest sweet and spicy Korean Fried Chicken recipe that will make your friends and family ask for more. We can't emphasize that the sauce is so delicious , you can literally dip anything in it. The perfect side dish that you can serve with this amazing plate of Korean Fried Chicken recipe would be a bowl of vinegary pickle that will just make every bite a little more delicious.
Cuisine: Korean Course: Appetizer
Skill Level: Novice
Prep: 25 mins Marinate: 30mins Cook: 20mins
Ready in: 45 min Serves: 4 servings
---
INGREDIENTS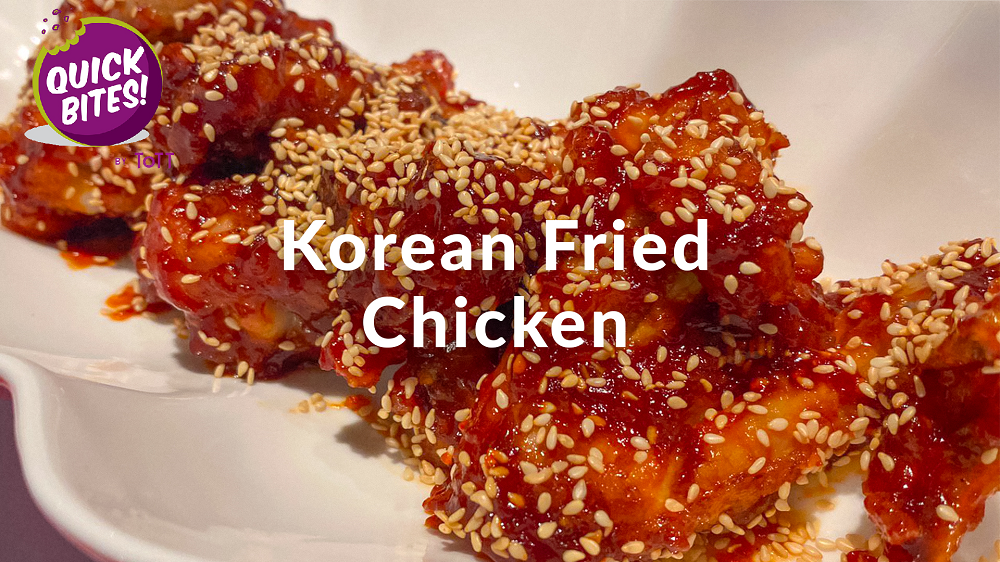 For the chicken:
12 drumettes and wingettes
1 teaspoon salt
pinch black pepper
1/2 teaspoon grated ginger
1/2 cup potato starch or corn starch
5-6 cups oil for frying
For the sauce:
2 tablespoons grated onion
1 tablespoon minced garlic
1 teaspoon finely grated ginger
1 tablespoon soy sauce
4 tablespoons rice wine or mirin
2 – 3 tablespoons hot sauce
4 tablespoons chili sauce or ketchup
2 tablespoons gochujang Korean red chili pepper paste
2 tablespoons corn syrup or honey
1 tablespoon sugar or more to taste
1 teaspoon sesame oil
For the garnish:
1/2 teaspoon sesame seeds
DIRECTIONS:
Wash chicken wings, and drain thoroughly. Mix with salt, pepper and ginger. Marinate for 20 to 30 minutes.
Heat a pan over medium-low heat. Add 1 tablespoon of cooking oil and then the onion, garlic, and ginger. Stir for a minute until fragrant. Add all other sauce ingredients, and stir well. Simmer until it thickens slightly, about 4 to 5 minutes. Turn the heat off.
Remove any excess water from the marinated chicken. Add the potato (or corn) starch to the chicken, and toss well to coat evenly.
Add the oil to a deep fryer, wok, or large pot. Heat the oil to 160°C. Using tongs or chopsticks, drop the chicken in the oil, one piece at a time. Fry them in two batches. Cook until lightly golden, about 5 to 7 minutes, depending on the size of the chicken wings. Drain on a wire rack or in a large mesh strainer set on a bowl.
Reheat the oil to 160°C. Add the chicken (you can do this in one batch for the second frying), and deep fry again, for 2 to 3 minutes, until lightly golden brown. Drain on a wire rack or in a large mesh strainer set on a bowl.
Heat the sauce over medium-low heat. Add the chicken, and stir well until the chicken wings are evenly coated. Sprinkle with sesame seeds to serve.