Relish in these flaky and butter Sweet Corn Empanadas filled with creamy, cheesy corn.  This snack from Argentina will blow your mind away!
Cuisine : Mexican  Course : Appetizer  Skill Level : Novice
Prep : 50 mins Cook : 30 mins Ready in : 1 hr 20 mins  Serves : 2 Servings
---
INGREDIENTS             
Dough

400gm All-Purpose Flour
175gm Unsalted Butter, chilled
¾ tsp Salt
1 no Large Egg
½ cup Cold Water

Egg Wash

1 no Large Egg, whisked
Sea Salt to taste (For Garnish)

Filling

500gm Corn Kernels
3 nos Green Onions, thinly sliced
1 tbsp Olive Oil
2 cloves Garlic, minced
1 tsp Mustard Powder
3 tbsp Milk
1 tsp Lemon Juice
½ tsp Paprika
½ tsp Salt
1 tsp Sugar
80gm Mozzarella Cheese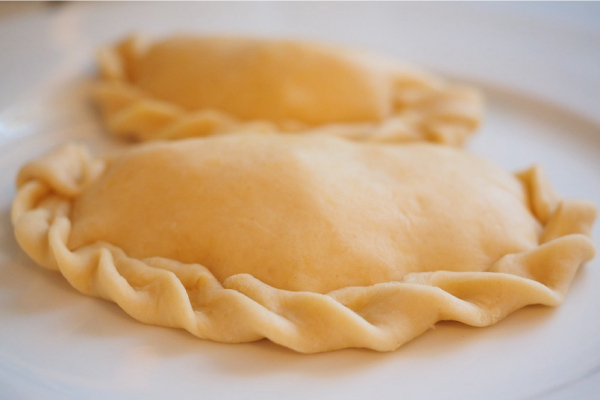 DIRECTIONS FOR DOUGH
In a food processor, pulses to combine the flour, butter and salt.
Whisk together the egg and the water and add in individual tablespoons until dough forms.
Press into two discs and cover with plastic wrap.
Chill for about 30 minutes to an hour in the fridge.
DIRECTIONS FOR FILLING
In a large skillet on medium heat, cook the corn and green onions in olive oil for about 3 minutes.
Add garlic, mustard, milk, lemon juice, paprika, salt and sugar, and cook for 5 minutes more until the corn is soft and spices have incorporated well.
In a food processor, pulse about 3 or 4 times, until the mixture is homogenous but leaving a few corn kernels whole.
Lay on a flat tray to chill before assembling.
ASSEMBLY:                                                         
Remove dough from fridge, and roll out on a floured surface as thinly possible.
Preheat oven to 190C.
Cut round circles using the round cutter.
Transfer rounds to a parchment-lined baking sheet.
Place 1-2 tbsp of filling followed by a heap of mozzarella cheese into the centre of each round, folding in half and crimping with a fork to enclose the pastry.
Brush the top with egg and sprinkle with a little sea salt.
Bake for about 12-15 minutes, until empanadas are golden brown.