Get your guests to fill in the Kway Pie Tee shells with chicken and pine nuts in a do-it-yourself Kway Pie Tee party!
Cuisine : Asian  Course : Appetizer Skill Level : Novice
Prep : 10 mins Cook : 15 mins Ready in : 25 mins  Serves : 12 Mini Shell
---
INGREDIENTS                                          
2 tbsp Oil
1 tsp Chopped Garlic
½ tbsp Chopped Ginger
½ Diced Onions
250gm Boneless Chicken Leg/ Breast (Diced)
½ small Red Bell Pepper (Diced)
100gm Zucchini (Seeded, diced)
2 tbsp Oyster Sauce
1 tsp Coarse Ground Black Pepper
30gm Pine Nuts (Toasted)
Coriander Leaves for Garnish
Pie Tee Shells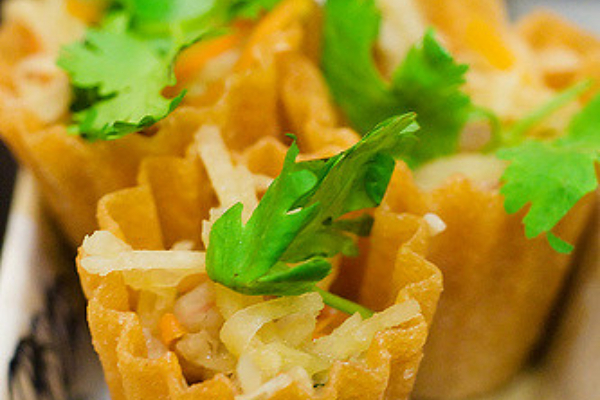 DIRECTIONS
Heat oil in pan, sauté garlic, ginger and onions till fragrant. Add the chicken and cook for two minutes.
Toss in the bell peppers and zucchini, pour in oyster sauce and sprinkle black pepper over the chicken. Cook for another two minutes.
Add in the pine nuts to the chicken, mix well and fill into pie tee cups as required. Garnish with some coriander leaves.